Patient Stories h1 >
Patient Joins Clinical Trial to Help Others, Finds First Effective Treatment in Decades h2 >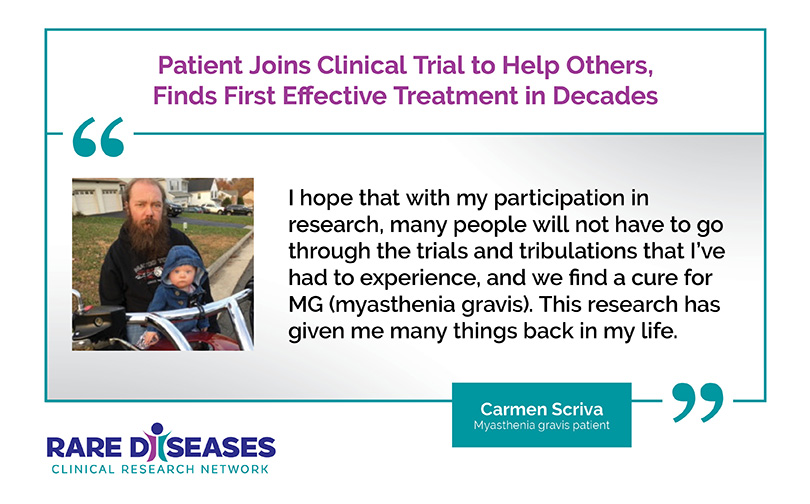 "I hope that with my participation in research, many people will not have to go through the trials and tribulations that I've had to experience, and we find a cure for MG (myasthenia gravis). This research has given me many things back in my life."

—Carmen Scriva, myasthenia gravis patient
Myasthenia gravis (MG) causes disabling muscle weakness. While many patients improve with immune suppression medications, these can produce significant adverse effects, and upwards of 15 percent of patients are poorly responsive. Improvements in care can only come from clinical research powered by patients.
When Carmen Scriva participated in a clinical trial for a new MG treatment—a novel complement inhibitor trial—he responded remarkably after 20 years of treatment resistance. For the first time in years, he was able to pursue one of his biggest passions—riding and working on motorcycles.
"If it wasn't for the research team working so hard and selflessly for others, I wouldn't be where I am today," he says. "I have very high hopes that the treatment continues to work for me and help many others not have to take the hard and long road that I've been down."
RDCRN's Myasthenia Gravis Rare Disease Network (MGNet) consortium partners with the Myasthenia Gravis Foundation of America and Conquer Myasthenia Gravis.